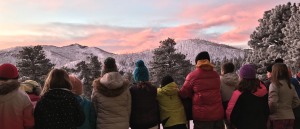 Come join the Balarat team, and get school credit for exploration, adventure, learning, bonding, leadership and fun in the outdoors and with excited 5th graders. DPS high school students can take Balarat Service as a class and receive 5 credit hours. In this important position, you will serve as a leader and role model for a class of DPS 5th graders. The course involves a 2 day 1 night training at the Balarat site in the foothills, and 6 days spread out over the semester helping to lead Balarat adventures. You can sign up as either a 3 day leader or a 2 day leader. As a 3 day leader you will do two 3 day, 2 night trips during the semester. As a 2 day leader you will do three 2 day, 1 night trips during the semester.
WHAT IS THE JOB?
At Balarat, high school leaders…
live in a dorm with a group of students as a Dorm Counselor.
assist and teach activities with Balarat staff and school teachers.
help lead evening programs, morning hikes and recreational activities.
help to set up and clean after meal times.
participate in a training trip.
help in every way you can to make the program run smoothly.
WHAT'S THE REWARD?
The benefits of working as a High School Leader are great. Through our formal trainings and the hands-on application of the leadership and role-modeling skills we teach, you will grow as a leader and as an individual. Friendships, good food, and time spent out of your traditional classroom setting in the outdoors all complement the growth you will experience during your time at Balarat. In addition, to this, and the 5 credit hours you will receive, the experience can be used for job and college applications and references.
GET STARTED
To participate you need to do the following…
Work with the Balarat coordinator at your school to sign up for the course.
Sign up for one of our two trainings. They will be held on January 17-18 & 24-25 overnight at the Balarat site.
Fill out all Balarat paperwork and bring it with you to the bus on your Training Trip.
BE PREPARED
Up here at 8,000+ feet, you can only be a great counselor if you take care of your needs first! Refer to our packing list to prepare you for warm days and cold nights (and everything in between)