Located 30 minutes North West of Boulder, just outside of Jamestown, the Balarat Challenge Course is set in a beautiful Ponderosa Pine forest. There are up to 15 different high elements ranging from 20 to 40 feet off the ground that allow us to create a program specially designed for your group's abilities and goals. We work with a variety of groups ranging from students to camps to school staffs and corporate groups.
We can have a maximum of 25 participants on the course at a time. Our course takes a 3-hour time commitment. If your participants are younger than 18 years, you will need a minimum of 1 adult chaperone per every 6 participants. The adult chaperones are not counted in the 25 participants limit.
If your group is larger than 25, you can bring them to the course in two separate groups over a 6-hour period.
Low Elements Course:
Additionally, we offer a Low Elements Course that helps facilitate team building as well as comfort before heading to the Challenge Course. The focus of the Low Elements is to emphasize teamwork and effective communication. If your group would like to add the Low Elements Course to their day it will add two hours to your program.
Swing and Zipline:
Our site also offers a Giant Swing and a Zipline. If your group would like to head to either our Zipline or our Giant Swing it will add two hours for either of the elements. If yo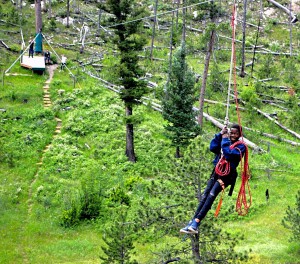 ur group would like to do both the Swing and Zipline, it will add four hours.
Dress Code: Please ensure that your group is properly dressed and prepared for the day:
Pants or long shorts (5″ inseam or greater)
Closed toed shoes
Water bottle
Rain layer
Sun protection (hat, sunglasses, sunscreen)
Cancellation Policy
: A $100 deposit is required to secure your reservation. If you cancel less than 2 weeks prior to your trip, that $100 is nonrefundable.

Hours:
Monday - Friday
9am to 3pm
June - August
Are you ready to plan your next adventure on our challenge course?
Email it to us at balarat-staff@dpsk12.net
Or call our office at (720) 424-2940 with any questions!